TNS
Direct Shear Testing of Unsaturated Soils
The experimental determination of the shear strength criterion of unsaturated soils is one of the main problems in analysis of the stability of slopes
TNS is a new shear box apparatus to measure or to control the suction with the axis translation technique. This testing apparatus has been developed in cooperation with the Department of Geotechnical Engineering of the University of Naples.
The control box size is 650 mm (h) 450 mm (w) 350 mm (d). Sample dimensions are 60 mm x 60 mm x 20 mm.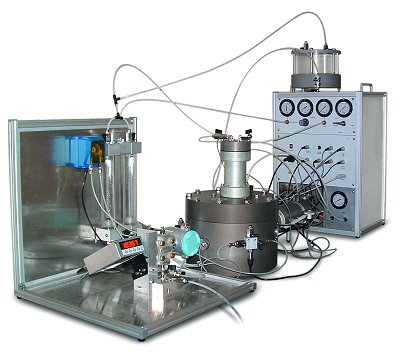 The main peculiarities of the shear box are:
very low vertical net stresses (5 kPa), like those existing in situ
controls suction in a wide range (0 to 300 kPa)
performs test at constant water content while measuring the variation of suction
possibility to decrease very quickly the suction, in order to simulate the effect of in situ water infiltration
two windows to check internal positions
closed loop automatic control of shear and axial load
The system includes:
internal shear and axial (normal) 5kN load cell
shear and axial LVDTs
high air entry porous disk in base pedestal
a stepping motor driven screw pump for shear control
an electropneumatic converter for shear control via an included air-water interface
an electropneumatic converter driving the cell air pressure
an electropneumatic converter to control the sample pore water pressure
a control box including all the electronic, pneumatic and hydraulic parts, including the pressure gauges and the valves to accomplish the test and check the operation
a complete PC with data acquisition and control boards
an open source software able to control the electropneumatic converters and the screw pump and to acquire all sensors.
The system has been designed for advanced research and test work, providing space for additional internal transducers.
All contents are © 2004-2019 Megaris s.r.l - P.IVA & C.F.:02088050618 CCIAA:140540